New RMD Tables Coming for 2022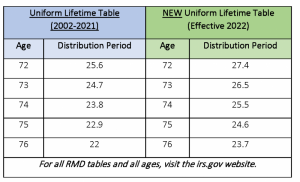 The various life expectancy tables used to calculate required minimum distributions (RMDs) from qualified retirement plans, IRAs, and nonqualified annuities have been updated for 2022. These updates have been done to reflect the increase in life expectancies experienced, as the current tables came out in the early 2000s. An RMD is the minimum amount you must withdraw from your retirement account each year.
What do these changes mean? In short, the divisors are increasing, which means the amount required to be withdrawn is decreasing. Since smaller distributions will be required to be taken out on an annual basis, this should result in less taxation and longer-lasting account balances, ultimately creating more of an opportunity for your funds to grow. (Of course, this assumes negative investment performance doesn't severely affect your funds.) The new tables will take effect in 2022; the current tables will still be used to calculate 2021 RMDs. Beneficiaries of IRAs, retirement plans and nonqualified annuities who will start using their life expectancy to take out the annual RMD in 2022 will use the new factors from the Single Life table to start their payout schedule. Beneficiaries who have been using their life expectancy to take out their annual RMD will need to adjust the life expectancy used in 2022 to reflect these new tables.
In summary, the updated tables come as a welcome change for many owners and beneficiaries. The new tables should reduce taxation on required distributions, as well as provide more opportunity for growth and longer lasting account balances.
Return to News